THEATRE PATRONS

WOULD YOU LIKE TO BE AN ASBURY ANGEL?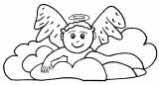 Without Patrons...and Lovers of the Arts...it would be very difficult to produce theatrical events.
So we've decided to call the patrons of our Theatre, "Angels." What better name for someone who supports the Arts at a church?
The names of our "Angels" will appear in the program under the following categories:
Archangels = $500 and above
Guardian Angels = $300 to $499
Seraphim = $150 to $299
Cherubim = $50 to $149

Checks can be made payable to Asbury Memorial Theatre and sent to: Asbury Memorial, 1008 East Henry Street, Savannah, GA 31401
Asbury Memorial Theatre is a thriving community theater in Savannah, Georgia. Since 1994, Savannah audiences have delighted in the Theatre's plays, musicals, revues and light opera productions, which have earned several Best of Savannah awards.